Karen Hudes Retweeted Karen Hudes
More proof that the Board of Governors appointed me as Overseer Mandate Trustee.of the Global Debt Facility.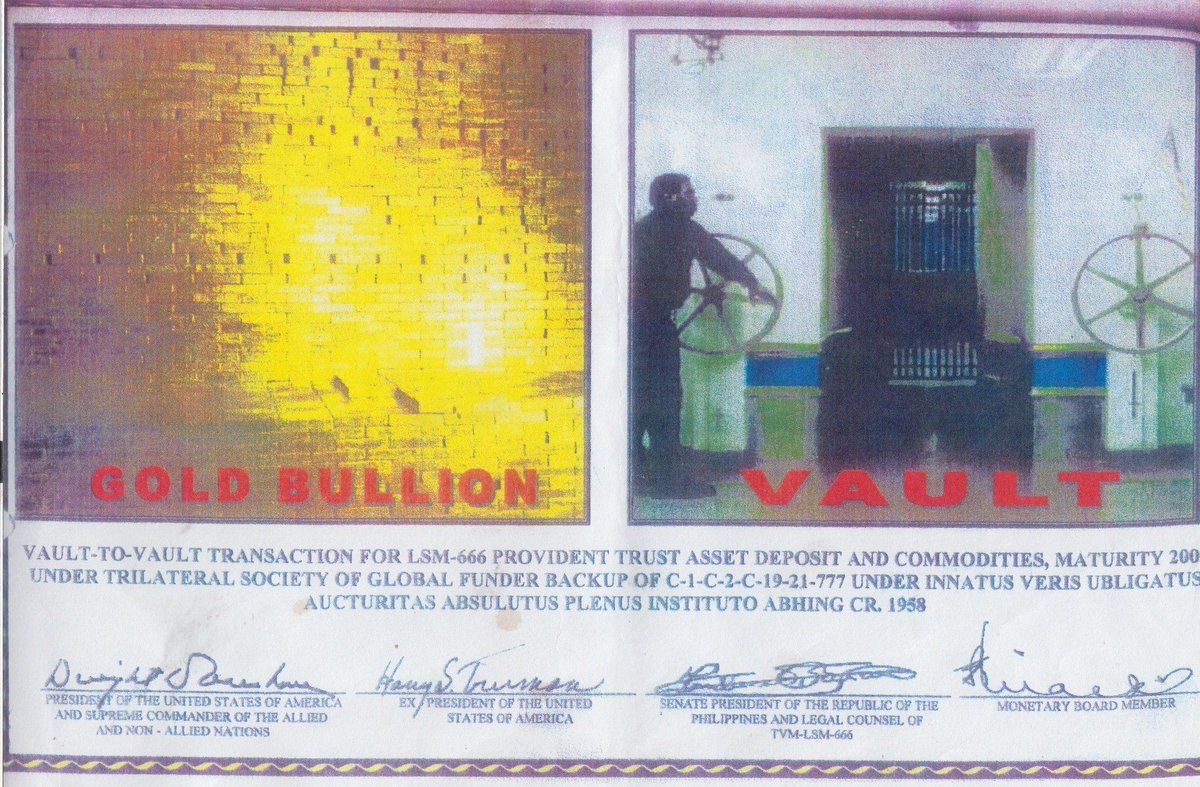 Getting back to where we left off in discussions with China in 2014 about the Global Currency Reset:
https://
s3.amazonaws.com/khudes/Twitter
12.7.14.2.pdf
 

…
---
---
Letter of Intent concerning the Global Debt Facility        Karen Hudes
Karen Hudes                             Sun, Dec 7, 2014 at 8:26 PM
To: eds01 <eds01@worldbank.org>, eds02@worldbank.org, eds03@worldbank.org, eds04@worldbank.org, eds05@worldbank.org, eds06@worldbank.org, eds07@worldbank.org, eds08@worldbank.org, eds09@worldbank.org, eds10@worldbank.org, eds11@worldbank.org, eds12@worldbank.org, eds13@worldbank.org, eds14@worldbank.org, eds15@worldbank.org, eds16@worldbank.org, eds17@worldbank.org, eds18@worldbank.org, eds19@worldbank.org, eds20@worldbank.org, eds21@worldbank.org, eds22@worldbank.org, eds23@worldbank.org, eds24@worldbank.org, eds25@worldbank.org, Chair of the Development Committee
This Letter of Intent concerns the world's assets held in trust for the benefit of humanity, TVM-LSM-666.
Please consider the following discussion points, designed to prevent diversion of the assets:
 the proposed draft Monetary Agreement which was forwarded to the Tokyo embassies  the historic price of gold
 advance administrative costs approved by the Board of Executive Directors on June 22, 2014
 my admittance to World Bank and IMF headquarters and country offices
 differentiating and disposing of excess, speculative foreign currencies
 audit of gold in the Global Debt Facility and claims of possible thefts
 winding down the network of global corporate control and bankruptcy of the banks operating under various jurisdictions
 transition arrangements; local currencies
 bailment laws
YCT is incorrect that any funds in the Global Debt Facility have been earmarked for INTROWELL GROUP LIMITED or for any other entity, as there was no authority to earmark such funding. The Board has determined on June 22, 2014 that the Global Debt Facility should be allocated to the Monetary Agreements.
https://s3.amazonaws.com/khudes/mboard3.pdf
Sincerely,                                                                                                                                       Karen Hudes                                                                                                                                 Acting General Counsel                                                                                                 International Bank for Reconstruction and Development                                                   Legal Counsel Global Debt Facility, TVM-LSM-666
---
---
On Sun, Dec 7, 2014 at 7:40 PM, Kai Fook Yong wrote:
We hope you are getting on well, busy no doubt being the Queen of the Rule of Law for global peace and humanity.
Today is exactly one month from the date of your Letter of Intent to the Central Bank of Taiwan. As you are probably aware, Taiwan has just concluded it's Municipality Elections a week ago whereby the ruling Koumintang Party suffered a resounding defeat. As a result, the ruling government has been rendered ineffective with the resignation of its cabinet ministers en-masse. However, YCT is putting pressure on the Central Bank of Taiwan to get back to business on matters stated in your Letter of Intent as the GDF does not belong to it's government, or any government for that matter. To this end, a short time frame has been set by YCT to revert to you and Monsignor Floro E. Garcia with the expected Letter of Invitation to Taipei. looking forward to meeting you then. 
At the same time as we speak, we are very concern that the global economies are facing the on going currency war-fare between the USA and the BRICKS coalition. This very grave situation if not quickly averted, would imminently spin the world into another deep depression as very well explained and predicted by Mr Jim Rickards, Asymmetric Warfare Advisor to CIA and Pentagon, in his recent interview on YouTube (a must listen video attached).
Your pursuit for the implementation of the global Rule of Law and the power transition model is PLAN A according to YCT. To hasten your relentless and vigorous efforts, YCT is now proposing that you consider his PLAN B, i.e. to tap into the colossal Humanitarian Funds accumulating in the World Bank account under the name of INTROWELL GROUP LIMITED. YCT has been given the carte blanche authority by the Trustees to transfer and employ 60% of these funds (probably exceeding USD700T todate) accumulating in this account solely for the purpose of world peace and humanity. He wishes to take the liberty and wisdom to delegate the authority to verify and access this account to you in writing if you are willing to accept this responsibility in addition to your mission for the GDF.
Will you accept this honour to serve humanity ? 
We look forward for your accommodating response and co-operation. 
YCT Development Corporation.